Now enrolling!
Session I (June 17 – 28)
Session II (July 15 – 26)
Session III (July 29 – August 9)
At The Hypnodrome, 575 10th St., San Francisco
(between Bryant & Division) Map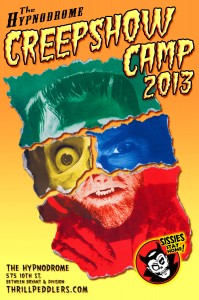 Young devotees of Horror, Sci-Fi and Suspense have a summer camp to call their own! Creepshow Camps face "fright" with curiosity and creativity, revealing the secret techniques behind scary entertainments' vitality and power. Workshops led by our dedicated staff of teaching artists engage participants, hands-on, in activities that teach and reinforce the fundamental skills in monster make-up, special effects, sleight of hand and stage combat. In our theatre venue, campers screen classic horror movies and rehearse on-stage for farewell performances given for family and friends on the last two days of every Creepshow Camp session.
Each two-week session is led by the Camp's director Russell Blackwood, the creator of the Bay Area Shakespeare Camps who founded Creepshow Camp in 2006, and guest artists from award-winning horror theatre company, Thrillpeddlers. Each staff member brings with them an unmatched expertise, insight and exuberance for creating on-stage thrills and chills.
Space is limited. Download the enrollment form today.