By Leslie Katz for the SF Examiner: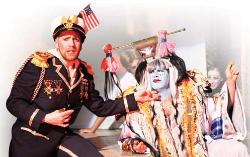 Not only has "Pearls Over Shanghai" survived a flash flood that closed it down for several weeks, the good-humored, gender-bending show is hosting guests of national prominence and questionable tastes — such as John Waters.
The director of the 1972 cult classic "Pink Flamingos" (as well as the original "Hairspray") was in the house at the refurbished Hypnodrome Theatre (in an alley on 10th Street near Bryant) as Thrillpeddlers got 2010 off to a grand start following a water main break that made the news and caused the ragtag troupe to cancel holiday performances.
The psychedelic comic mock operetta first was performed some 40 years ago by The Cockettes, a drag queen troupe known for wild midnight shows at the Palace Theater in North Beach.
Two original members of the group appear in this crazy, big-hearted reincarnation: Musical director and piano accompanist "Scrumbly" Koldewyn (who also wrote the show's catchy music) is Ilsa, while Rumi Missabu (alternating with Arturo Galster) plays Madam Gin Sling.
The mostly unimportant plot combines characters from sailors and whores to American girl singers (a trio) and a Russian diva whose fortunes (and misfortunes) meet up in exotic 1937 Shanghai.
But the Busby Berkeley-inspired numbers are nothing but fun, particularly those with the uniformly spirited ensemble, who almost outnumber the audience in the compact theater, a converted warehouse.
Also notable on reopening night were Eric Tyson Wertz as Lili Frustrata, a street peddler selling her wares in the lovely song "Apples and Won Ton" whose aura draws in Capt. Eddy (Steven Satyricon). Eddy, meanwhile, wants to save the aforementioned Wobblin' Robin Sisters — Delightful (Adeola Role), Deluxe (Liza Bouterage) and Delicious (Miss Sheldra) — from succumbing to the dangers of the Orient.
Sin and evil are the order of the day, in songs such as "Opium," "Palace of Trash" and "White Slavery" — not to mention the sex and a couple of shots of nudity, just to make sure proceedings stay over the top.
Still, the fantastic glittering costumes by Tihara, Kara Emry and Louise Jarmilowicz are eye-popping, as is the makeup, under direction of consultant Melanie Paulina.
During January performances, the goofy glamour continues in a post-show "afterglow" number, again based on previous Cockettes shows. On Jan. 9, decked out in resplendent colors, the troupe presented "Jewels of Paris," a Folies Bergere-style dance in which each of the eight performers represented a different gem.