Click here for information about our Spring 2012 revival of Hot Greeks!
A Revival of the Cockettes' 1972 Musical Extravaganza
By Martin Worman and Richard "Scrumbly" Koldewyn
Directed by Russell Blackwood
Musical Direction by Richard "Scrumbly" Koldewyn
At the Hypnodrome, 575 10th Street, San Francisco [Map]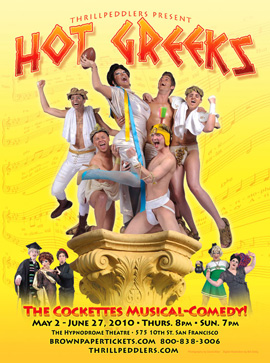 Thrillpeddlers is proud to announce production of a revival of the 1972 Cockettes musical extravaganza HOT GREEKS, an original musical by Martin Worman and Richard "Scrumbly" Koldewyn. This show is part of our 3rd annual Theatre of the Ridiculous Revival, which will play in repertory with performances of the long-running hit musical PEARLS OVER SHANGHAI. Originally produced as a Nocturnal Dream Show and performed at midnight at the Palace Theatre in Chinatown in SF, HOT GREEKS was the fabled & fabulous Cockettes' only other scripted book musical besides PEARLS OVER SHANGHAI. HOT GREEKS is directed by Russell Blackwood, and original Cockette and composer Richard "Scrumbly" Koldewyn serves as Musical Director. The cast includes SF favorite Connie Champagne, and Thrillpeddlers stalwarts Birdie-Bob Watt, and the ever luminescent Michael Soldier as Lysistrata.
HOT GREEKS plays as a limited engagement – running only 17 performances – Thurs. (8 pm) and Sun. at (7 pm) from May 2–June 27, 2010. Opening Night (press night)– Sun., May 2 at 7 pm. The program will be presented in repertory with Thrillpeddlers' current production PEARLS OVER SHANGHAI, the Cockettes musical, which will continue to run thru August 1, 2010. Fri. and Sat. – thru June 26, 2010 at 8 pm, in July thru Aug. 1, 2010 Pearls plays Sat. at 8 pm and Sun at 7 pm.
Thrillpeddlers' Hypnodrome Theatre is located at 575 10th Street, San Francisco. (Bryant & Division Sts.) Tickets are $30 gen. admission or $69 for "Shock Boxes" and "Turkish Lounges**"
(admits two) and are available at http://www.brownpapertickets.com/event/104118
or by calling 800/ 838- 3006.
Synopsis:
In "Hot Greeks," college rhythm meets the Peloponnesian War as Athens University takes on
Sparta State for their annual pigskin showdown. This musical, loosely based on Aristophanes's LYSISTRATA, features the Tri Thigh Sorority girls jiving to the big-band hit parade sounds of the 1940s. The kids sing and dance through the ruins, on their way to consult the Oracle of Delphi (The Hot Twat of Tangier) in their pursuit of victory on the gridiron where quarterback Pendulum Pulaski, the Scarlet Helmet Boy, saves the day for the Gods and Greece.
In addition, Thrillpeddlers revival of HOT GREEKS will be paired with a floorshow of musical selections from other seminal Cockettes shows including: TINSEL TARTS IN A HOT COMA, JOURNEY TO THE CENTER OF URANUS (JCU), and VICE PALACE (VP). Divine and Mink Stole who are best known for their work in John Waters' films were featured in these shows and debuted such chestnuts as "A Crab On Your Anus Means Your Loved" (Divine – JCU), and "No Nose Nanook" (Mink – VP). The Floorshow will occur nightly after a brief intermission after the performance of HOT GREEKS.