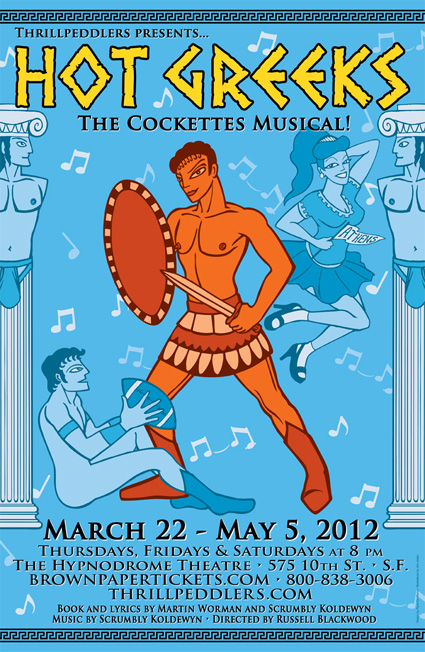 Music by Scrumbly Koldewyn
Book and Lyrics by Martin Worman and Scrumbly Koldewyn
Directed by Russell Blackwood
EXTENDED through May 19, 2012!
Thursdays, Fridays, Saturdays at 8:00pm
At The Hypnodrome
575 10th Street, San Francisco
Tickets: $30 – $35
Online: BrownPaperTickets.com
Phone: 800-838-3006
Thrillpeddlers are proud to announce our Spring Season 2012 production of HOT GREEKS, A New Full-Length, Fully Restored Version of The Cockettes' 1972 Musical Extravaganza, an original musical by Martin Worman and Scrumbly Koldewyn. This is the 40th Anniversary of the original production. Originally produced as a Nocturnal Dream Show and performed in 1972 at midnight at the Palace Theatre in Chinatown in SF, HOT GREEKS was the fabled & fabulous Cockettes' only other scripted book musical besides PEARLS OVER SHANGHAI. The Cockettes were a gender-bending theatrical troupe who not only originated these two shows, but also exerted a profound influence on the culture of our times, from the phenomenon of midnight movies to glitter rock stars and their outrageous fashions. In 2010 The Thrillpeddlers mounted a condensed 70-minute version of HOT GREEKS and it was an instant, sold-out hit. This new 2012 production expands the show to a full-length version and restores 3 songs from the original 1972 production.
In HOT GREEKS, college rhythm meets the Peloponnesian War as Athens University takes on Sparta State for their annual pigskin showdown. This musical, loosely based on Aristophanes' LYSISTRATA, features the Tri Thigh Sorority girls and their hunky footballer sweethearts jiving to the big-band hit parade sounds of the 1940s. The kids sing and dance through the ruins of ancient Greece, on their way to consult the Oracle of Delphi in their pursuit of victory on the gridiron. Dancing columns, vestal virgins, country cousins, and even a pig, all join Lysistrata on her journey to save the day for the Gods and Greece.
HOT GREEKS is directed by Russell Blackwood and original Cockette and composer Scrumbly Koldewyn serves as Musical Director and plays piano for all performances. Thrillpeddler and San Francisco favorites will be featured in this revival, including: Tom Orr (Pendulum), Noah Haydon (Pandora), Rik Lopes (Lysistrata), Annie Larson (Clitoristra), Birdie-Bob Watt (Myron), Steven Satyricon (Doric), Ste Fishell (Corinthian), Bobby Singer (Ionic), James Toczyl (Annie), Russell Blackwood (Mata Dildoes) Joshua Devore (Diameter), Lisa Appleyard (Mrs. Ova), Jan Adrienne Gilbert (Leda) and others to flesh out a cast of 23.