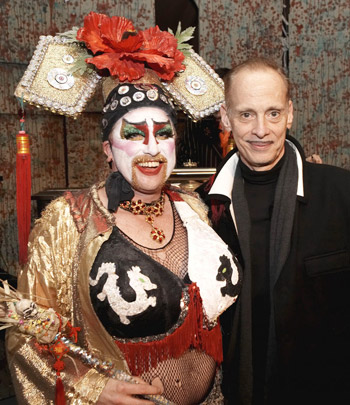 It was quite a thrill for Thrillpeddlers last Friday night when John Waters came the Hypnodrome to see "Pearls Over Shanghai." The visit was planned well in advance and I could feel our excitement mounting from the moment we heard the news last November that he was all set to come on January 8th. The performance went wonderfully well and he and his guests stayed late into the night for our "Afterglow Floorshow," a new revue of production numbers from other Cockettes musicals we've developed for The Cockettes 40th anniversary.
Mr. Waters lives in San Francisco part-time now, but in The Cockettes heyday in the early 70s he was a full time San Franciscan along with Divine and Mink Stole, who were members of The Cockettes and rising Waters cult stars. His interview in The Cockettes documentary joyously recalls those pre-Pink Flamingo days. He said his night at The Hypnodrome gave him plenty of flashbacks and some new visions as well.
When I was 14, seeing "Pink Flamingos" at The Bijou Theatre in Kansas City changed my life. It was so homemade, filthy, audacious … opulent. I walked out into the sun light (yes, I saw a matinee!) utterly dazed and delighted. As I came to realize that he'd gathered a stock company of freaks to make movies with him at "Dreamland Studios" in Baltimore, I got the idea that I'd like to someday assemble a company of my own. Since Thrillpeddlers earliest days, I've aspired to do just that and to tap in to what makes John Waters work so evocative and engaging for me. PEARLS is a perfect example of how his influence plays on me. Performing it for him is a night I'll never forget.