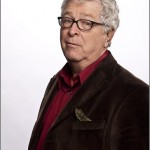 "Vice Palace" creator and musical director "Scrumbly" Koldewyn recently sat down for an interview with the SF Chronicle theatre critic Robert Hurwitt to talk about the Cockettes and our new production of their last musical.
On "Vice Palace:"
Vice Palace" was written because, although the Cockettes had officially disbanded, it was getting close to Halloween. The producer of the Nocturnal Dream midnight shows at the Palace needed a Halloween show, and Divine was in town and Mink Stole. A lot of the Cockettes were still around. Martin, who'd written "Hot Greeks," was asked to do the script, and I was asked to write the music.

For the revival, I've had to expand the script and add about seven songs. It's a revue, but the glue that holds it together is Poe's "The Masque of the Red Death," but as seen through Fellini, sort of "La Dolce Vita" or "Juliet of the Spirits." So it takes place in Italy at the Villa Divina – Divine was the original Divina. Now we have Leigh Crow. Who else could live up to Divine's image?

So the prince invites all his friends to the villa and seals them all off from the plague that's raging outside and gives them entertainment – entertainment after entertainment. That's what makes it a revue. But the thing is, each entertainment has to be progressively more outrageous.
Read the full interview at SFGate.com.