Shocktoberfest 12: FEAR OVER FRISCO
– A Trio of Noir-Horror Plays –
Our 12th Annual Extravaganza of Terror and Titillation
A collaboration between the city's renowned Thrillpeddlers and "Czar of Noir" Eddie Muller, author of the evening's three plays.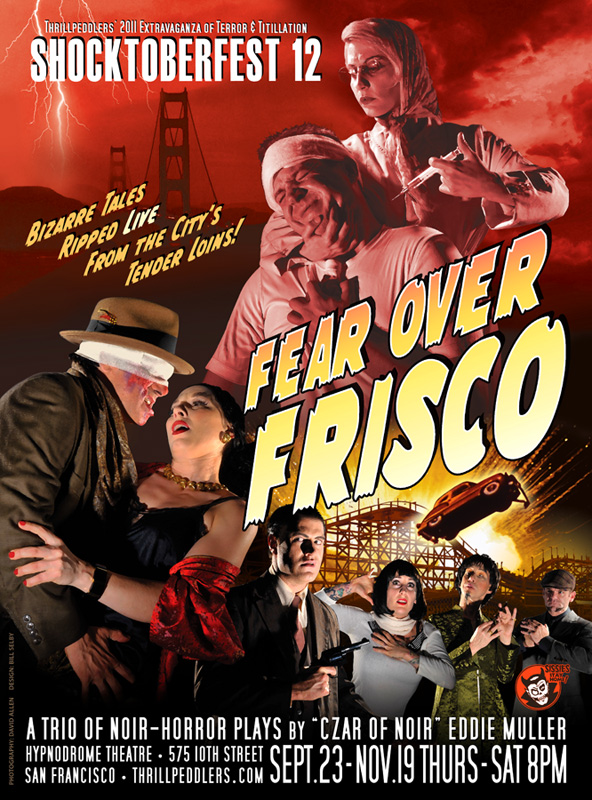 Sept. 23 – Nov. 19, 2011 (Thurs., Fri. & Sat. at 8:00 pm)
At The Hypnodrome
575 10th Street (Bryant and Division)
San Francisco
$25 – Previews and Thursdays
$30 – Fridays and Saturdays
$35 – Shock Box and Turkish Lounge seating
Buy Tickets Online
or call 415-377-4202
The blood-thirsty spectacle of the Grand Guignol seeps into the shadowy cinematic world of film noir in Shocktoberfest 12: FEAR OVER FRISCO, a collaboration between the city's renowned Thrillpeddlers and "Czar of Noir" Eddie Muller, author of the evening's three plays. Each tale leads the audience through a different period of terror and titillation in San Francisco's noir-stained history: the contemporary déjà vu dread of The Grand Inquisitor, the post-WWII hysterics of An Obvious Explanation, and the Prohibition era high- and low-life of The Drug. In addition, Shocktoberfest!! 12: FEAR OVER FRISCO features musical director Scrumbly Koldewyn's merrily macabre musical production numbers. The bill culminates with Thrillpeddlers' famed black-out spook show finale when ghostly apparitions materialize before the audience's startled eyes. The Hypnodrome's "Shock Box" seats provide pairs of patrons with privacy and an added jolt of "lights-out thrills".
In THE GRAND INQUISITOR, (dir. Eddie Muller) an odd young woman with a cache of used books comes calling on an elderly recluse that she believes is the widow of San Francisco's most notorious serial killer. Twenty real-time minutes culminate in an unexpected and shocking climax. Cast: Bonni Suval (Lulu), Mary Gibboney (Hazel).
In AN OBVIOUS EXPLANATION (dir. Eddie Muller), a daring heist goes awry when the crook who stashed the loot suffers amnesia. An ambitious doctor intends to solve the problem with her untested "memory" serum. The results are more dramatic than she expected – which is not a good thing. Cast: Daniel Bakken (Lucky), Flynn De Marco (Frank), Bonni Suval ?(Dr. Lorisson), Zelda Koznofski (Sherry).
In THE DRUG (dir. Russell Blackwood), a promising young deputy DA's efforts to crack the case of a celebrated artist's disfigurement are thwarted – by the prosecutor's own desire for the prime suspect. René Berton's classic two-act Grand Guignol, originally set in Saigon, is transposed and adapted by Muller to 1929 San Francisco. Cast: Eric Tyson Wertz (Brendan McDonagh), Flynn De Marco (Charles Marzac), Kara Emry (Claudine Van Ness), Daniel Bakken (Jefferson Van Ness), Joshua Devore (Bernard Devereux), Russell Blackwood (The Doctor), Jim Jeske (The Captain), Steven Bollinger (The Editor), Ste Fishell (Robert), Birdie-Bob Watt (Luang-Si).