Shocktoberfest 15: The Bloody Debutante
An Evening of Horror, Carnage, Puppets and Song
Limited Engagement – Only 23 Performances!
Oct. 9 – Nov. 22, 2014
(Thurs., Fri. & Sat. – 8:00 pm)
Special Halloween performances Oct. 28 & 29
(Tues. / Wed. – 8:00 pm)
At The Hypnodrome
575 10th Street, San Francisco
(between Bryant & Division Streets)
Tickets $30-$35
Available online at BrownPaperTickets.com
or call 415-377- 4202.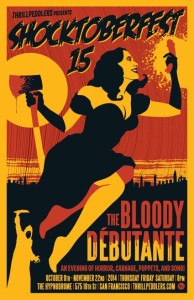 15 Years of Thrilling Terror!
Our latest extravaganza of terror & titillation includes:
An Edgar Allan Poe classic from Le Théâtre du Grand Guignol – THE SYSTEM OF DR. TARR AND PROFESSOR FETHER – by André de Lorde, freely adapted by Paulo Biscaia Filho.
ISABEL'S ZOMBIE HOLOCAUST – A world-premiere puppet show by Nick Knave.
THE BLOODY DÉBUTANTE – A musical ritual one-act by Scrumbly Koldewyn.
DEATHWRITE – A world-premiere black comedy by Andy Wenger and Damien Chacona.
Contortionist Michael Curran and a Lights-Out Spook-Show Finale.
Tickets always sell fast, so don't delay… buy yours today.