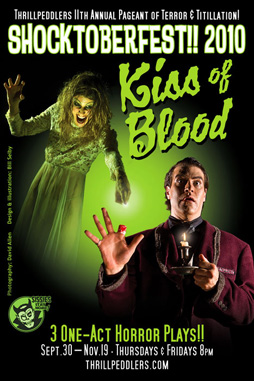 Thrillpeddlers are proud to present our signature Halloween show SHOCKTOBERFEST!! 2010: KISS OF BLOOD (3 one-act plays), the 11th annual presentation of Grand Guignol terror plays and titillating farces, running Thursdays and Fridays at 8:00 pm from Sept. 30 through Nov. 19, 2010, with a special Halloween performance on Sunday, Oct. 31 at 8:00 pm.
The program will feature 3 One-Act plays, including the title piece KISS OF BLOOD by Jean Aragny and Francis Neilson, a 1929 shocker from the repertoire of Le Théâtre du Grand-Guignol the original French horror theatre, in a new English adaptation by Daniel Zilber (co-founder of Thrillpeddlers), and LIPS OF THE DAMNED and THE EMPRESS OF COLMA, two original plays in the Grand Guignol tradition commissioned by Thrillpeddlers from New York playwright Rob Keefe. The bill culminates with Thrillpeddlers' famed black-out spook show finale when ghostly apparitions materialize before the audience's startled eyes. The Hypnodrome's "Shock Box" seats provide pairs of patrons with privacy and an added jolt of "lights-out thrills."
KISS OF BLOOD (Le Baiser de sang) caused a sensation when it debuted at infamous Parisian horror theatre, Le Theatre du Grand Guignol in 1929 due to the gruesomeness of its opening scene, set as it is in an operating theatre during the aftermath of a botched brain surgery. At a theatre that had acquired an international reputation for onstage violence, shocking its audience must have been no mean feat – but by confronting the audience with a gruesome tableau the moment the curtain rises, they achieved their goal. The science of brain surgery was still in its infancy, and inexact, to say the least. As the play unfolds, the theme of madness as a surgically operable malady is explored with even more startling developments.
LIPS OF THE DAMNED, suggested by "La Veuve" (a French slang term for The Guillotine, literally "The Widow"), is set in a French museum of torture devices and other antique curiosities, forced to close its doors due to an uncontrollable infestation of starved rats. An illicit amorous tryst is interrupted, or perhaps enhanced, by the intrusion of unwelcome parties.
THE EMPRESS OF COLMA takes place in the basement clubhouse of potential pageant candidates all vying desperately for the title of "Empress of Colma". Their dental assistant girlfriend, tolerated only for her easy access to pharmaceutical drugs, scores the wrong drugs one fateful day, with hilarious, …albeit disastrous, results.
At intermission, Thrillpeddlers invite audience members to partake in a macabre demonstration of their full-size replica of an 18th century Guillotine. Steady nerves and cameras are a must.
Thrillpeddlers' Hypnodrome Theatre is located at 575 10th Street, San Francisco. (Bryant & Division Sts.) Tickets for SHOCKTOBERFEST!! 2010 are $25 general admission or $35 premium admission for "Shock Boxes" and "Turkish Lounges" (premium tickets sold in pairs only), and are available at Brown Paper Tickets or by calling 800-838-3006.