Thrillpeddlers' smash run of Pearls over Shanghai just keeps going
Chris Jensen for the SF Weekly ::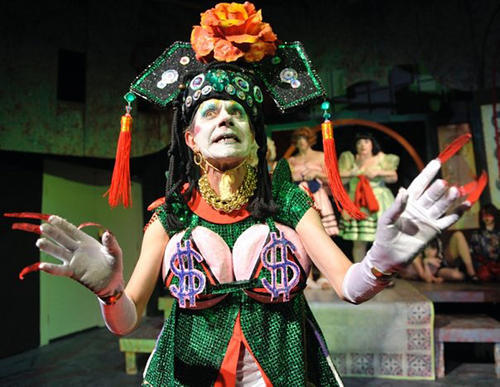 In November 1971, a San Francisco theater troupe became the laughingstock of New York. The Cockettes were a ragtag bunch of acid-tripping Bay Area misfits who had started performing less than two years earlier at the Palace Theater in North Beach. Rex Reed happened to catch a local performance and wrote breathless praise in his nationally syndicated column, calling them "a landmark in the history of new, liberated theater." Truman Capote echoed his enthusiasm. And so it came to pass that a few months later, the leading lights of New York's arts scene, including John Lennon, Robert Rauschenberg, and Gore Vidal, turned out for the Cockettes' feverishly hyped East Coast debut.
Then the curtain went up. Apparently the New York crowd didn't expect a minimally rehearsed musical revue starring glittery hippies in sloppy, over-the-top drag. Within the first few minutes of Tinsel Tarts in a Hot Coma, the audience revolted. Angela Lansbury was one of the first to bolt for the door. Even Andy Warhol didn't stick around. The Cockettes, as it turned out, were a psychedelic camp spectacle that simply didn't travel well.
After a few miserable weeks in New York, they returned to San Francisco to develop and perform some of their best-known shows, including Journey to the Center of Uranus (in which Divine appeared as a giant crab singing, "If there's a crab on Uranus, you know you've been loved"). They disbanded before the end of 1972, largely forgotten even by those they almost certainly influenced, from David Bowie to the creators of The Rocky Horror Picture Show.
Fortunately, nothing that good remains forgotten for long. 2002 brought a celebrated documentary (titled simply The Cockettes), which featured a stunning collection of archival footage. That sparked a renewal of interest that culminated in 2009, the 40th anniversary of their first appearance at the Palace. Just last month, SFMOMA held a rare screening of the troupe's films, including Tricia's Wedding, a 1971 drag interpretation of Tricia Nixon's nuptials. And most notably of all, the Cockettes made a triumphant return to the stage with Thrillpeddlers' revival of the mock-operetta Pearls over Shanghai, which opened in June and just keeps getting extended (at this point, you can buy tickets through the end of April).
Of all the local shows I saw in 2009, Pearls was in many ways the best. Other productions were more polished; a few were nearly as inventive. But minute for minute, you simply won't find a more joyously zany show in San Francisco. Nor will you find a more loving tribute to the city's grand legacy as a Western outpost of unapologetic depravity.
Think of it as The Mikado by way of Ziggy Stardust, with a little John Waters thrown in to keep the audience from getting too comfortable. The story is primarily a vehicle for outlandish costumes and secondarily an excuse to exploit the cast's tendencies toward exhibitionism. One major storyline concerns an American naval captain (Steven Satyricon) who takes a Chinese bride named Lili Frustrata (Eric Tyson Wertz); another follows three virginal American girls (Adeola Role, Liza Bouterage, and Miss Sheldra), who find themselves sold into slavery in 1937 Shanghai. (Imagine the World War II–era Andrews Sisters in an opium den, and you're on the right track.)
A few minor caveats: The show is even more politically incorrect than it sounds — if you can't deal with the ethnic stereotypes in Flower Drum Song, then you're definitely not up for this. And Thrillpeddlers isn't kidding when they say that the show isn't appropriate for kids, unless of course you don't mind your children watching leather- and mesh-clad cast members in an opium-fueled orgy.
The show relies crucially on inspiration from a few of the surviving Cockettes. Richard "Scrumbly" Koldewyn, who wrote the show's 24 songs, is on hand as musical director and accompanist. Rumi Missabu reprises his role as Madame Gin Sling from the original 1970 production. And Billy Bowers and Tahara, both original Cockettes, helped create the costumes, including a getup for Mother Fu (Russell Blackwell) that makes the Sisters of Perpetual Indulgence look demure.
The result is by far the most successful Thrillpeddlers show I've seen. Long a purveyor of local Grand Guignol fare, the company churns out gleefully tasteless productions of little-seen works by long-dead authors. Its members have an obvious fondness for discovering and performing obsolete kitsch — a task both nostalgic and heroic, even if most of their shows involve some form of disembowelment.
Their M.O. is to string three or four short plays together, alternating between horror and farce, hitting and missing in roughly equal measure. Pearls over Shanghai demonstrates what the company is capable of when it concentrates its efforts not on a series of one-acts but on a full-length play.
If the Cockettes had been a hit in New York in 1971, maybe a revival like this wouldn't be necessary. Maybe Gin Sling would be as well-known as Frank N. Furter. But that's obviously not what happened, and that's why groups like Thrillpeddlers are around — to dig up promising trash that past generations managed to dismiss.
This show wasn't really written for New Yorkers, anyhow. It's a musical by, for, and about San Francisco, even if it's ostensibly set in Shanghai. And, like the Cockettes, it won't stick around forever. Don't miss it. Go now.
From the SF Weekly, Jan 20, 2010