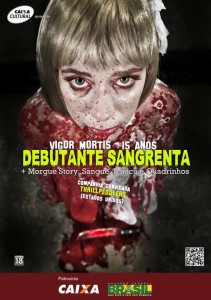 I arrived in Rio one week ago with long-time Thrillpeddlers Kara Emry, Eric Tyson Wertz, and Flynn DeMarco to perform with in Debutante Sangrenta (The Bloody Debutant). We move into the theatre tomorrow for technical rehearsals and will enjoy a four performance run starting on January 31. Our two companies collaborated when members of Vigor Mortis, led by Artistic Director Paulo Biscaia Filho, came to San Francisco for a month to perform "The Forsaken Laboratory" (featuring actors from both companies) on the bill of Shocktoberfest!! 2010: The Kiss of Blood.
The bill in Rio includes Filho's adaptation of the Grand Guignol classic "The System of Dr. Goudron and Professor Plume," Rob Keefe's "The Twisted Pair," Thrillpeddlers fetish variety acts, a new song named for the show by Thrillpeddlers' composer Scrumbly Koldewyn, and a black out spook show finale. We'll perform in the 300 seat Teatro Nelson Rodrigues (named for the Brazil's taboo breaking playwright) located in downtown Rio de Janeiro.
Work, of course, is ramping up as we head towards moving into the theatre, but we've still had time to enjoy the fabulous beach at Leblon and Ipanema and nights out in Copacabana. We're missing Carnival by a week, though we're hoping to catch some dress rehearsals for the many samba troupe that perform in the parade.
Meanwhile, back in San Francisco, other Thrillpeddlers are rehearsing for our sixth annual Theatre of the Ridiculous Revival, the 1971 Cockettes musical Tinsel Tarts in a Hot Coma. It is a wonderful time to be a Thrillpeddler!