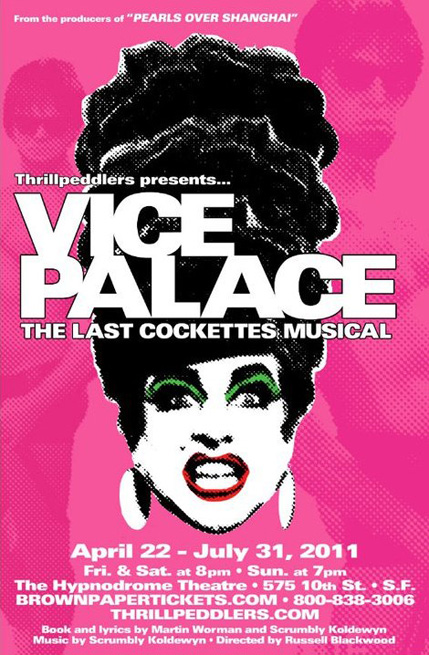 April 22 – July 31, 2011
Fridays and Saturdays at 8:00 PM
Sundays at 7:00 PM
At the Hypnodrome – 575 10th St., in SF 94103. (Bryant & Division Sts.)
Tickets available online at BrownPaperTickets.com
or by phone at 800-838-3006
$30 General Admission
$35 Shock Box and Turkish Lounge
Thrillpeddlers are happy to announce that after their record-breaking 22 month run of the award-winning production of PEARLS OVER SHANGHAI, they are presenting composer Scrumbly Koldewyn's revival of the 1972 Musical revue extravaganza "VICE PALACE: The Last Cockettes Musical" at the Hypnodrome Theatre from April 22 thru July 31, 2011 in SF. With a book by Martin Worman and music composed by Scrumbly Koldewyn, the show was originally performed by The Cockettes during Halloween 1972 at the Palace Theatre in North Beach. This revival has been extensively revised by composer Scrumbly Koldewyn with additional material that originally appeared in past Cockettes productions.
"VICE PALACE: The Last Cockettes Musical" is loosely based on Edgar Allan Poe's hallucinatory short story, "The Masque of the Red Death," and the even more hallucinatory 1964 Roger Corman film of that name starring Vincent Price. It also gives a stylistic nod to the early 1960s films of Frederico Fellini, specifically "La Dolce Vita" and "Juliet of the Spirits". VICE PALACE was originally written as a vehicle for Divine and actress Mink Stole (best known as stars of cult-director John Waters' films), and The Cockettes.
Originally produced as a "Nocturnal Dream Show" and performed at midnight at the old Palace Theatre in Chinatown on Halloween weekend of 1972, VICE PALACE was the fabled and fabulous Cockettes' final stage presentation. The Thrillpeddlers revision features selections from other Cockettes shows including "Les Etoiles du Minuit," "Journey to the Center of Uranus," and "The Circus of Life."
"VICE PALACE: The Last Cockettes Musical" is directed by Russell Blackwood, and original Cockette and composer Scrumbly Koldewyn is the Musical Director. Costumes by Kära Emry, lights by Nicholas Torre, sound by Chris Paulina, and make up coordinator Kegel Kater.
Composer Scrumbly Koldewyn plays piano for all performances of "VICE PALACE: The Last Cockettes Musical." Thrillpeddler and San Francisco favorites will be featured in this new production, including: Leigh Crow (Divina), Flynn DeMarco (Goldoni), Birdie-Bob Watt (Vagina Dentata), Steven Satyricon (Niccolini), Eric Tyson Wertz (Bella), Ste Fishell (Tonio), L. Ron Hubby (Madame X), T.J. Buswell (Paulo), James Toczyl (Polo), Russell Blackwood (Lucretia), and making his Thrillpeddlers debut as Ricciolini is Joshua Devore. Best known as former porn star Tober Brandt, Mr. Devore (aka Brandt) was named Best Fetish Performer at the 2009 GayVN Awards.
Valentine's Weekend Variety

We kick off our 10th year at The Hypnodrome on Valentine's Weekend with a cavalcade of audacious acts for three nights only -- February 13th - 15th. This variety act bill, performed by members of the company, is a benefit to raise funds for those "little extras" that will make our 2014 season truly glitter. It is also a great chance for you to meet new and old Thrillpeddlers alike!

Tickets are on sale now at BrownPaperTickets.com.

Producing Artistic Director:
Russell Blackwood
Email

Press/Media Contact:
Lawrence Helman PR
415-661-1260
lhelman@sbcglobal.net
Press Release

The Hypnodrome
575 10th Street
San Francisco, CA 94103
415-377-4202
Tickets
Map

Latest News

Thrillpeddlers Tour to Rio de Janeiro

I arrived in Rio one week ago with long-time Thrillpeddlers Kara Emry, Eric Tyson Wertz, and Flynn DeMarco to perform with in Debutante Sangrenta (The Bloody Debutant). We move into the theatre tomorrow for technical rehearsals and will enjoy a four performance run starting on January 31. Read more...