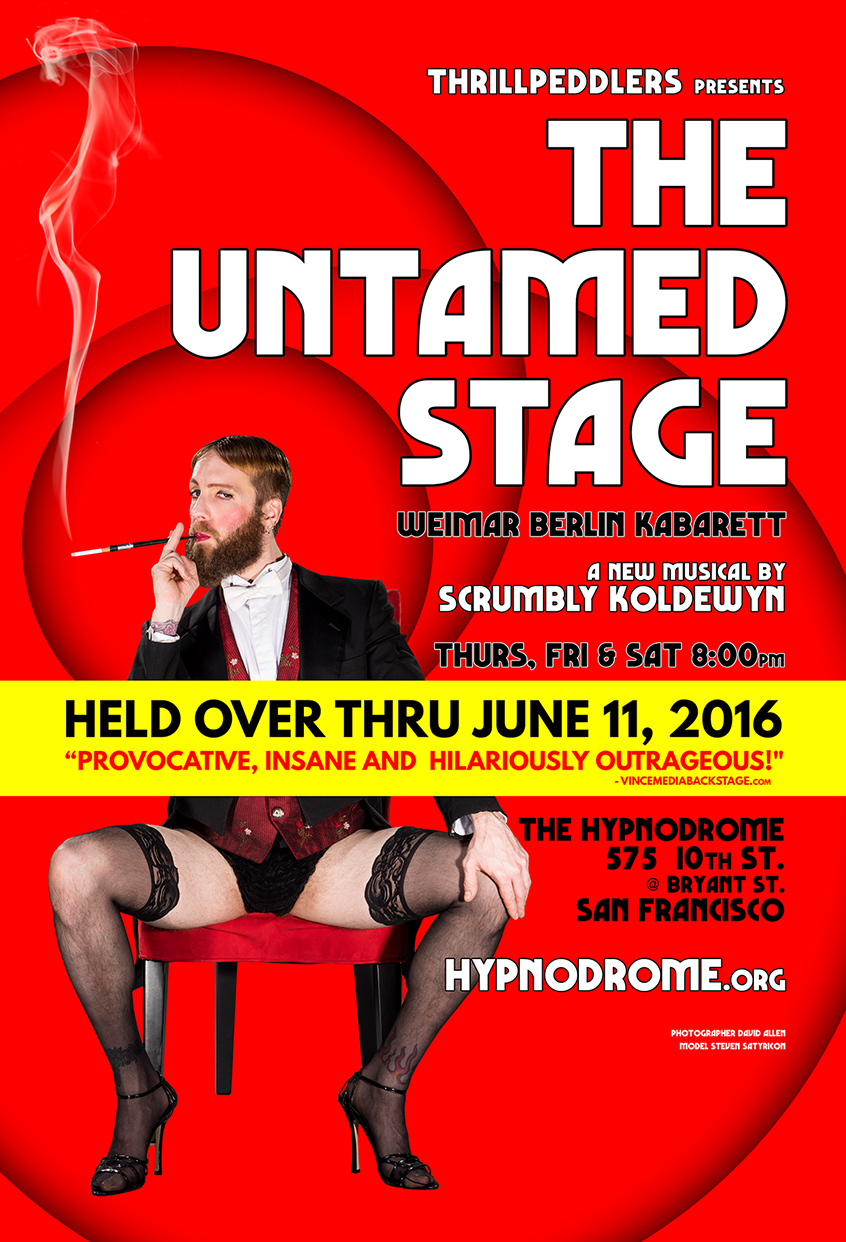 Held-Over! Two Weeks Added!
Must Close June 11, 2016
Concept & Music & Lyrics & Musical Direction by Scrumbly Koldewyn.
Add'tl. Material by Terance Bennan, Damien Chacona, Cab Covay, Andy Wegner, Martin Worman, and Alex Kinney.
Choreography by Marilynn Fowler.
Additional staging by Cab Covay and Noah Haydon.
Directed by Russell Blackwood.
Thrillpeddlers' The Untamed Stage is a world premiere musical inspired by the innovations and excesses of 1920s Weimar Berlin. Original Cockette Scrumbly Koldewyn, composer of Pearls Over Shanghai and Jewels of Paris, exploits the erotic and bizarre with Thrillpeddlers, San Francisco's "Best Underground Theatre Company" (7×7 Magazine).
April 14 – June 11, 2016
Thursdays, Fridays & Saturdays at 8:00 pm
Only at The Hypnodrome
575 10th St. (at Bryant), San Francisco
Tickets $30 – $35
Buy tickets online
Info: 415-377-4202
The Untamed Stage features Thrillpeddlers stalwart performers including: David Bicha, Cameron Eng, Nkechi Emeruwa, John Flaw, Barney Ford, Zelda Koznofski, Noah Haydon, Kim Larsen, Bruna Palmeiro, Steven Satyricon, CJ Smith, Rochelle Urban, Jason Wade, Crystal Why, Diogo Zavadzki.
Guest performers during the remaining run include: Steve Bolinger, Lisa McHenry, Carly Ozard, Suzanne Ramsey (Kitten on the Keys), Roxanne Redmeat, Tina Sogliuzzo.
Preview Video: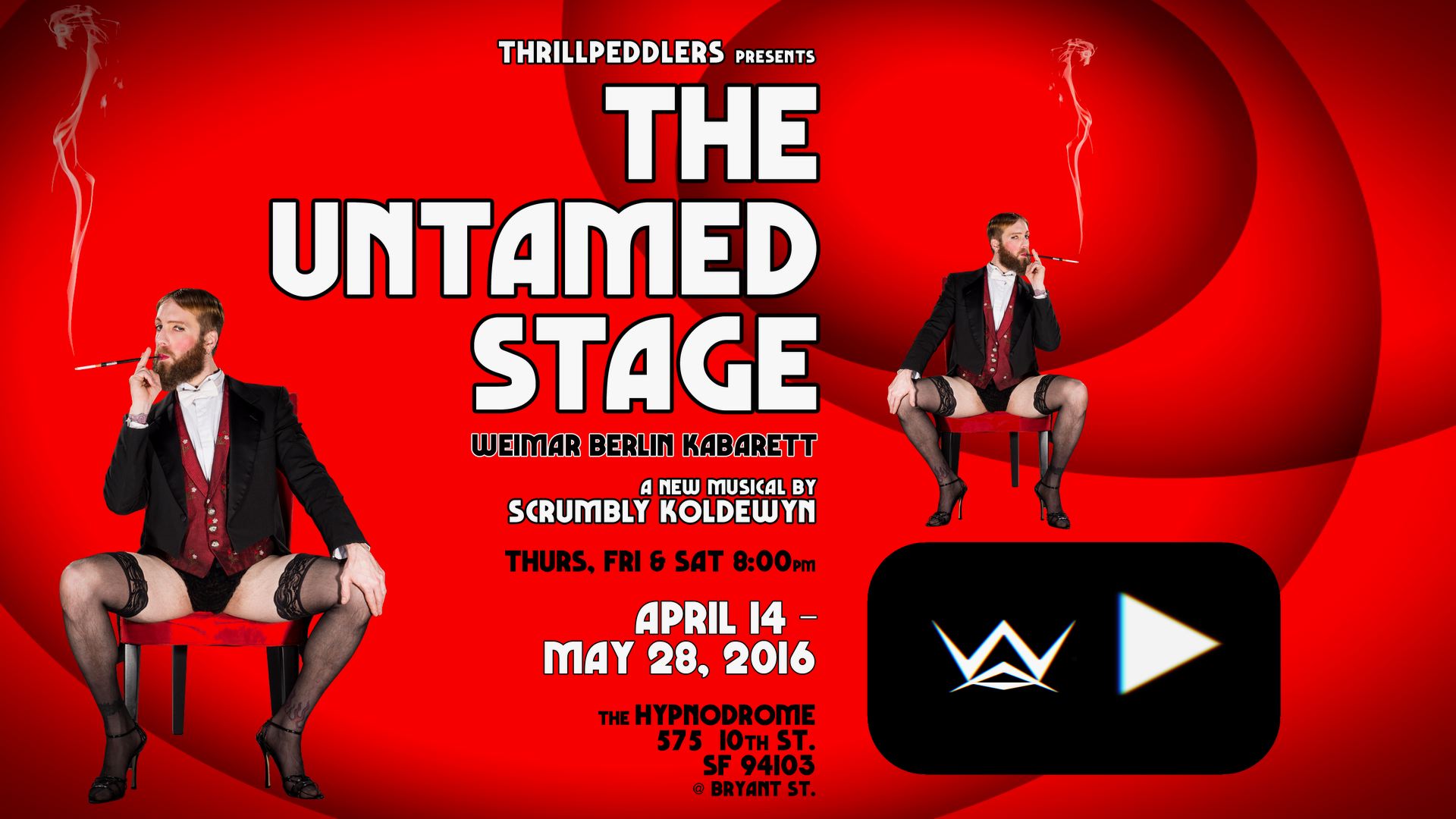 Visit hypnodrome.org to find out more about the programs at Thrillpeddlers' South of Market performance venue.
Creepshow Camp

The editors of SF Weekly presented Creepshow Camp with a 2015 "Best of San Francsico" Award. The clever custom-made award title they bedecked us with: Best Camp to Send Your Little Monsters.

---

Upcoming Events

Vetern Thrillpeddler Will McMichael writes and directs his new play Night Witches for the Hollywood Fringe Festival with the help of Thrillpeddlers. Thousands of young women went to war on the Eastern Front of WWII. Among the most elite were the women of Night Bomber Regiment 588. In hushed fearful tones, the Nazi called them Nachthexen (Night Witches). Playing June 5 - 23, 2016.
--> More Info

---

Thrillpeddlers is auditioning performers of all genders, races and ethnicities for the acting ensemble of "Shocktoberfest," San Francisco's 17th annual extravaganza of terror and titillation celebrating the Grand Guignol theatre tradition (www.grandguignol.com). This year's lineup includes classic Grand Guignoil horror plays, black comedy, and original music by Scrumbly Koldewyn (resident composer for Thrillpeddlers and the fabulous Cockettes). Auditions are June 6, 6:30 - 8:30 pm & June 13, 6:30 - 9 (also callback) at The Hypnodrome, 575 10th St. (@ Bryant St.), S.F. Please prepare: one 1-2 minute monologue. You'll also have the option sing a song or share a special skill (musical or otherwise). Appointment/Info: Russell at blackwood415@gmail.com "Shocktoberfest" rehearsals are Aug 1 - 3 workshops, Aug 15 - Oct 12 weeknights and some Saturday days. Performance are Thur, Fri, Sat at 8 pm Oct 13 - Nov 19, plus Oct 30 and 31 at 8 pm. Performers receive a $250 travel stipend.

Producing Artistic Director:
Russell Blackwood
Email

Press/Media Contact:
Lawrence Helman PR
415-661-1260
lhelman@sbcglobal.net
Press Release

The Hypnodrome
575 10th Street
San Francisco, CA 94103
415-377-4202
More Info
Tickets
Map