Thrillpeddlers are pleased to announce our annual Halloween Extravaganza "Shocktoberfest 14: Jack the Ripper" – An Evening of Horror, Madness, Spanking and Song commemorating the 125th Anniversary of the Jack The Ripper Murders in London.
September 26 – November 23, 2013
Thursdays, Fridays, Saturdays at 8:00pm
At the Hypnodrome, 575 10th Street, SF
Tickets:
BrownPaperTickets.com or 800-838-3006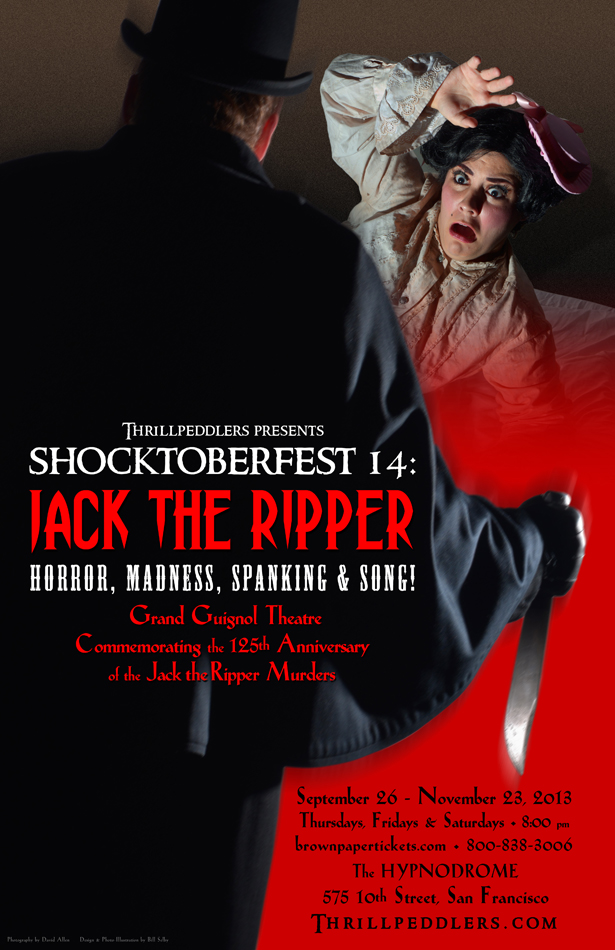 This 14th Annual Extravaganza of Terror & Titillation includes:
A Classic 1934 Grand Guignol Thriller – "Jack the Ripper" by André de Lorde and Pierre Chaine (Premiere English adaptation by Carl Grose);
"The Wrong Ripper" – a World-Premiere One-Act play by Rob Keefe;
"A Visit to Mrs. Birch and the Young Ladies of the Academy" (The opening scene from the Victorian Spanking drama, a Thrillpeddlers' favorite also celebrating its 125 year);
"Salome" – by Scrumbly Koldewyn – a new musical spin on Oscar Wilde's classic;
…and a Lights-Out Spook-Show Finale.
Producing Artistic Director:
Russell Blackwood
Email

Press/Media Contact:
Lawrence Helman PR
415-661-1260
lhelman@sbcglobal.net
Press Release

The Hypnodrome
575 10th Street
San Francisco, CA 94103
415-377-4202
Tickets
Map

Latest News

Thrillpeddlers Tour to Rio de Janeiro

I arrived in Rio one week ago with long-time Thrillpeddlers Kara Emry, Eric Tyson Wertz, and Flynn DeMarco to perform with in Debutante Sangrenta (The Bloody Debutant). We move into the theatre tomorrow for technical rehearsals and will enjoy a four performance run starting on January 31. Read more...