HELD OVER through July 26, 2014
Thursdays, Fridays, Saturdays at 8:00pm
At the Hypnodrome Theatre, 575 10th Street, SF
Tickets: $30 – $35
Online at BrownPaperTickets.com
Or by phone at 800-838-3006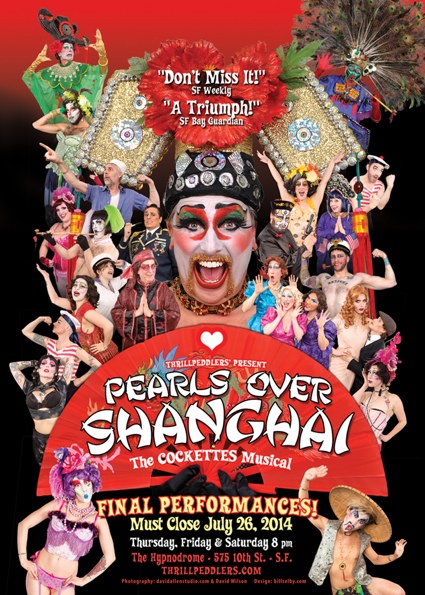 Our award-winning production of PEARLS OVER SHANGHAI, San Francisco's longest-running Cockettes musical hit, is back on The Hypnodrome stage for a Fifth Anniversary Revival Production.
PEARLS OVER SHANGHAI is a comic mock-operetta about white slavery, opium dens, and miscegenation set in the colorful world of 1937 Shanghai. The story is set at the crossroads of good and evil; an exotic "old sin town" filled with singing sailors, humorous whores, foolish immortals, handmaidens and henchmen, all taking their places in streets teeming with a mix of foreign aristocrats, opium addicts, and gangland slave-trade czars.
With a cast of over 20, costumes a-plenty, and a score of 24 original songs, this production is the most eye-popping and toe-tapping in the Hypnodrome's history, with the scent of intoxicating perfume, poisonous flowers, opium, and sex oozing from every scene.
Three original Cockettes, Scrumbly Koldewyn, "Sweet Pam" Tent, and Rumi Missabu who were in the original production of PEARLS OVER SHANGHAI will perform in this production, bringing to life the whimsy and the madness that were the "all singing, all dancing, all cardboard" Cockettes.
Our original production of PEARLS OVER SHANGHAI ran for nearly two years and received rave reviews from critics and audiences alike. It's a phenomenon that keeps on growing! Get your tickets soon for this sure-to-sell-out musical event of the season.
Creepshow Camp – Now Enrolling

Thrillpeddlers are now accepting enrollment for Creepshow Camp, our classic horror day camp for kids ages 8-15.

We're hosting four two-week sessions this summer:

Session I - June 16 - 27
Session II - July 7 - 18
Session III - July 21 - August 1
Session IV - August 4 - 15

For more information please visit CreepshowCamp.com.

Producing Artistic Director:
Russell Blackwood
Email

Press/Media Contact:
Lawrence Helman PR
415-661-1260
lhelman@sbcglobal.net
Press Release

The Hypnodrome
575 10th Street
San Francisco, CA 94103
415-377-4202
Tickets
Map