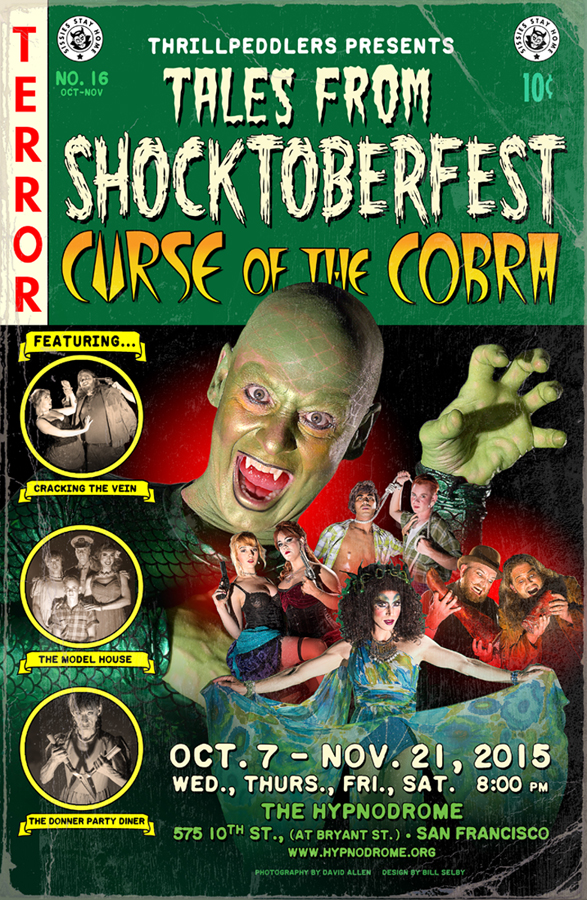 One-Act Plays by Rob Keefe, Scrumbly Koldewyn, Andy Wenger & Damien Chacona
October 7 – November 21, 2015
Wednesdays – Saturdays at 8:00 pm
Only at The Hypnodrome
575 10th St. (at Bryant), San Francisco
Tickets $25 – $35
Buy tickets online
Info: 415-377-4202
Thrillpeddlers proudly present their 16th annual extravaganza of terror and titillation inspired by the Grand Guignol theatre tradition. This year's bills features one-act terror plays, black comedy, a musical adventure, and a "lights-out" Spookshow finale.
Cast: Andy Wenger, Barney Ford, Birdie-Bob Watt, Bruna Palmeiro, Cameron Eng, Carol Ann Walker, Damien Chacona, David Bicha, Dee Nathaniel, Diogo Zavadzki, Earl Alfred Paus, J Iness, John Flaw, Katrina Kroetch, Michael Demartini, Noah Haydon, Owen Asdell, Tommy Salami.
Visit hypnodrome.org to find out more about the programs at Thrillpeddlers' South of Market performance venue.