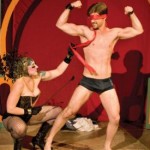 By Nicole Gluckstern for the SF Bay Guradian ::
Thrillpeddlers has slyly redefined its brand of thrills to embrace a wholly different genre besides the Grand Guignol revivalism for which it is best known; setting aside its usual quotient of twisted naturalism and splattered gore for the rambunctious, over-the-top glitter and glam of Theatre of the Ridiculous.
Continue Reading

→
Producing Artistic Director:
Russell Blackwood
Email

Press/Media Contact:
Lawrence Helman PR
415-661-1260
lhelman@sbcglobal.net
Press Release

The Hypnodrome
575 10th Street
San Francisco, CA 94103
415-377-4202
Tickets
Map

Latest News

Thrillpeddlers Tour to Rio de Janeiro

I arrived in Rio one week ago with long-time Thrillpeddlers Kara Emry, Eric Tyson Wertz, and Flynn DeMarco to perform with in Debutante Sangrenta (The Bloody Debutant). We move into the theatre tomorrow for technical rehearsals and will enjoy a four performance run starting on January 31. Read more...