Channeling spirits, science, and seduction…
A Musical Seance returns to The Hypnodrome!
TWO NIGHTS ONLY:
March 7 & 8, 2010 at 8:00 PM
At The Hypnodrome
575 10th St., San Francisco
Map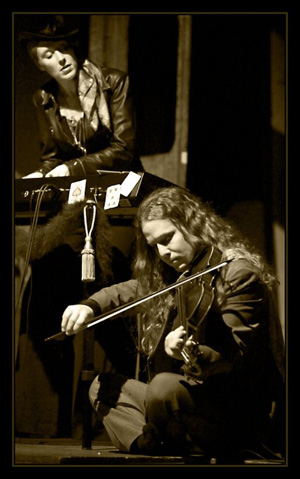 Hailed by LA Weekly as "the cult darling of the underworld," our favorite chanteuse fatale Jill Tracy returns to Thrillpeddlers' Hypnodrome to resurrect her wildly popular "Musical Seance", a collaboration with Atlanta cult composer/violinist Paul Mercer, and featuring master percussionist Randy Odell, and special guests.
PLEASE NOTE: Audience members are asked to bring small objects of special significance, such as a photo, talisman, jewelry, toy, token. This is a very crucial part of manifesting the music.
Since joining forces on Halloween 2007, Jill Tracy and Paul Mercer have become widely known for their astonishing duets on piano and violin, mostly improvised or channeled. The pair affectionately refer to their duets as "spontaneous musical combustion." Their uncanny ability to conjure spirits through unsettlingly lavish compositions has led to spellbinding results, eerily transporting the room and its rapt audience.
Following the pair's Music Seance last year in Victoria B.C, a man approached violinist Paul Mercer: "While you were playing, I could see a figure looming behind you, a man, he was soaking wet." He had no idea that the antique violin Mercer was playing that evening belonged to a murder victim who was drowned in a river.
The duo were commissioned to compose the popular Midnight Waltz at the 2008 International Ball of the Vampires (Portland, OR), a dramatic and ambitious work entitled "Coronation of the Witch Queen." The waltz was later featured when Jill Tracy and Paul Mercer were the headlining performers at Anne Rice's legendary Halloween Ball in New Orleans.
Tracy and Mercer will be directly returning from concerts in Spain and Portugal (February 2010) to perform A Musical Seance at the Hypnodrome.
Legendary author Clive Barker states: "Jill Tracy creates an elegant netherworld both seductive and terrifying."
V. Vale of RE/Search publications described a Jill Tracy/Paul Mercer Seance as "Sheer magic! Perfection. Improvised… If you're lucky enough to be there, you realize you've just had a hint of something extra-mortal, uber-human, transcendent – maybe the concentrated ghosts of Shakespeare's Globe Theater or the Commedia Dell'arte of the past are swirling around the room . . . and you think that THIS is the new avant-garde: live, un-censored, living theater."
A recent interview in Tor.com describes the Jill Tracy/Paul Mercer Seance as "musical psychometry."
"These compositions are delicate and glorious living things they materialize, they transport, and in the same second they vanish," explains Jill Tracy of the Musical Seance. "They embody the fragile essence of Time. No two shows are ever alike, we have no control, that is the rare beauty of it."
"A Musical Seance" brings it one step further– harnessing the energy of the audience, a synergistic summoning of what dwells within each of us.
Mercer, whose collection of ages-old violins each tells its own story, was the impetus for his highly regarded "Ghosts" CD and lecture series. His personal instrument collection features very unique voices, spirits with such strong personalities they have their own names. His current instruments include a mysterious late 19th century violin named Daphne, a luminous late 17th century violin named Abigail, and a stunning 1820 Viola named Henryetta. Paul has had the fortune to play some powerful instruments such as 1842 Nicolas Vuillaume, two Stradivari, including the magnificent Firebird Stradivari 1718 ex Saint Exupery.