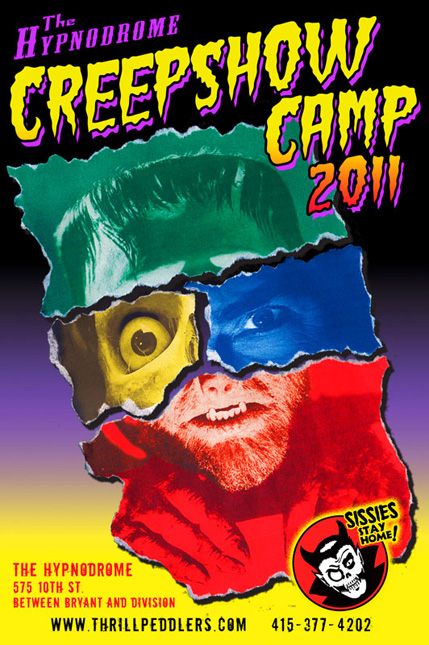 Young devotees of Horror, Sci-Fi and Suspense have a summer camp to call their own! Creepshow Camps face "fright" with curiosity and creativity, revealing the secret techniques behind scary entertainments' vitality and power. Workshops led by our dedicated staff of teaching artists engage participants, hands-on, in activities that teach and reinforce the fundamental skills in monster make-up, special effects, sleight of hand and stage combat. In our theatre venue, campers screen classic horror movies and rehearse on-stage for a farewell performance given for family and friends at the end of every Creepshow Camp session.
Each two-week session is led by the Camps' director Russell Blackwood, the creator of the Bay Area Shakespeare Camps who founded the Creepshow Camps in 2006, and guest artists from Thrillpeddlers (named SF Weekly's "Best of the Bay" in 2007 and 2008). Each staff member brings with them an unmatched expertise, insight and exuberance for creating on-stage thrills and chills.
Creepshow Camp (ages 8 to 15) – Two-week sessions meet Mondays – Fridays from 9:00 am – 3:00 pm. Tuition is $395.