Pearls Over Shanghai
A Musical by Link Martin and Richard "Scrumbly" Koldewyn
Directed by Russell Blackwood
Musical Direction by Richard "Scrumbly" Koldewyn
Now thru April 9, 2011
Fridays & Saturdays at 8:00 PM
At the Hypnodrome
575 10th Street, San Francisco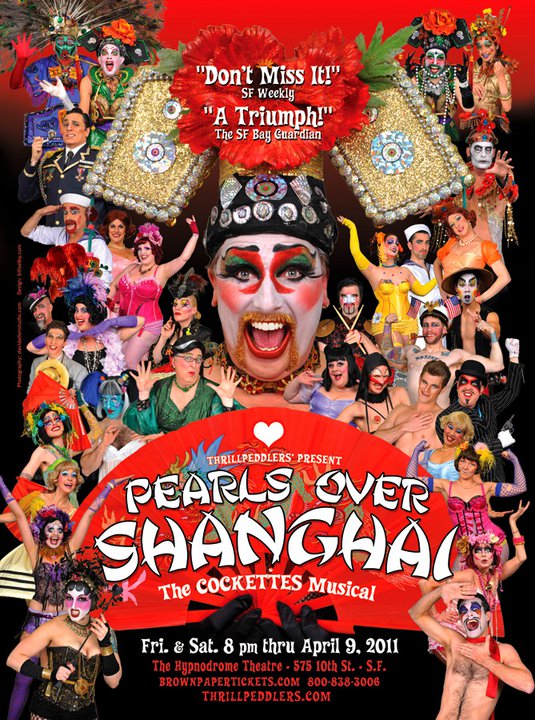 "Pearls Over Shanghai," an original musical by Link Martin and Richard "Scrumbly" Koldewyn, was the centerpiece of Thrillpeddlers' second annual Theatre of the Ridiculous Revival in 2009, and marked the 40th anniversary of the formation of The Cockettes, a gender-bending theatrical troupe who not only originated this show, but also exerted a profound influence on the culture of our times, from the phenomenon of midnight movies to glitter rock stars and their outrageous fashions.
Based loosely on John Colton's scandalous 1926 Broadway play "The Shanghai Gesture" (later transformed into a deliriously decadent art deco film noir by Josef von Sternberg in 1941), "Pearls Over Shanghai" is a comic mock-operetta about white slavery and miscegenation set in the colorful world of 1937 Shanghai, China. Link Martin parts the bamboo curtain, his politics swept aside by his love of the mystery and intrigue of the Orient. Placing his story at the crossroads of good and evil, his exotic "old sin town" is filled with singing sailors, witty whores, foolish immortals, handmaidens and henchmen, all taking their places in streets teeming with a mix of foreign aristocrats, opium addicts, and gangland slave-trade czars
Originally produced as a Nocturnal Dream Show and performed at midnight at the old Palace Theatre in Chinatown, "Pearls Over Shanghai" was the fabled and fabulous Cockettes' first and best original showpiece. This musical became the crown jewel of The Cockettes repertoire, enjoying three revivals in two years, including a notorious and infamous run at New York's Anderson Theatre in 1971.
Stage Director for PEARLS OVER SHANGHAI is Thrillpeddlers' Russell Blackwood, and original Cockette and composer Scrumbly Koldewyn serves as Musical Director and accompanist. With a cast of over 20, costumes a-plenty, and a score of 24 original songs, this production is the most eye- popping and toe-tapping in the Hypnodrome's history, with the scent of intoxicating perfume, poisonous flowers, opium, and sex oozing from every scene.
Composer Scrumbly Koldewyn plays piano for all Pearls performances in the guise of Ilse, the propriortess of the whore house. San Francisco favorites Veronica Klaus, Katya Smirnoff-Skyy, and Leanne Borghesi are the local divas alternating in the role of Petrushka, first created by disco diva Sylvester in the original productions. Notable local performers in cast rotation are Michael Soldier, Arturo Galster, Steven Satyricon, Valentine, Birdie-Bob Watt Leigh Crow and Flynn DeMarco.
Pairs of patrons will surely enjoy Hypnodrome's Shock Box seats for two, which garnered SF Weekly's "Best of San Francisco 2008" for "Best Bonus Theater Experience." These themed seats include sumptuous Turkish Lounges, as well as private boxes including "Heaven" and "Hell," "Pharaoh's Tomb," and "Padded Cell," which offer the opportunity for a heightened psychedelic experience during the "opium" blackout sequence at the climax of "Pearls Over Shanghai"—with added special effects as a nod to the 1950s horror movie gimmicks of William Castle.