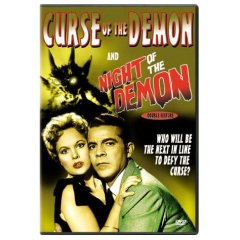 The Hypnodrome's free movie night last week was great fun! Thrillpeddlers' playwright and visual effects director Jonathan Horton introduced one of his all-time horror film favorites – Curse of the Demon. This 1958 crowd pleaser has it all: witchcraft, hypnosis, séances, Devil cults and skeptical scientists. And since we were screening the English version (the American one is called Night of the Demon), the movie included the very strange "hovel scene" and a foggy visit to Stonehenge. Jonathan has worked extensively in special effects, make-up and animatronics for movies like The Fly, Inner Space, Anaconda and A Perfect Storm, so I was eager to see what kind of movie really floats his boat. I wasn't surprised that Demon was a story well told, chockfull of atmosphere and plot twists and played with the heightened sense of a film noir. I sat next to Jonathan during the screening and there were several times that I was compelled to poke him in the ribs because a moment in the movie was so grand guinolesque or just right up our alley.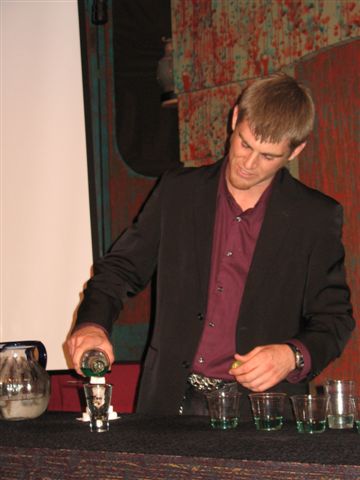 Thrillpeddler Will Freitas scored a donation of two bottles of absinthe which he ably prepared and passed around to the audience. I tell ya, absinthe is strong! Will demonstrated two methods of preparing it to drink. Both with ice water, slotted spoon and sugar cubes, but only one that set the whole thing ablaze. As our guest of honor, Jonathan was given the flaming drink. His report, "Even stronger than the first one!"
If you'd like to hear about other special events at The Hypnodrome before they happen, sign up to receive our email newsletter on this site. Coming in June – Grand Guignol and Weimar Berlin historian Mel Gordon hosts the rarely seen English version of The Blue Angel with Marlene Dietrich and the premiere of dances re-created from Weimar's cabarets with dancer/actress Bijou O'Keefe. Heir Ists Richtig!