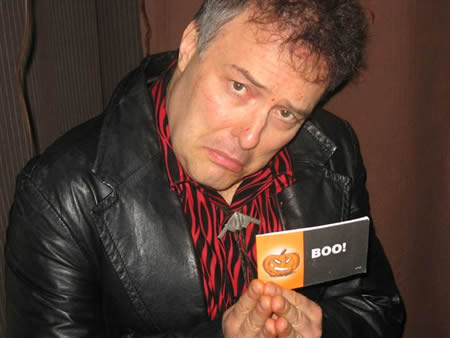 On Saturday June 2nd we bid adieu to Hypnodrome Head Trips. Bittersweet as it was to say goodbye to the Head Trips company, fans and our favorite roles, I couldn't have asked for a better closing night performance and party. We had a full house that included some very special folks. My Dad, Jim Blackwood, is in town for a month from Santa Fe and we're doing a complete overhaul on the Shock Box seats (look for a feature story in September's Stage Directions magazine). Shock Box progenitor and dear friend, Dan Corr, paid his respects twice in a row and gave us a gorgeous poster from a flick called Two for the Guillotine starring Connie Stevens and Caesar Romero. Logging nine performances since the Valentine's Day preview, our good friends Susan and Geoff took one last Trip with us.
Enhancing the thrill of it all was having Jello Biafra and his girlfriend Anne Marie sitting in the front row for the show and merrymaking with us until the wee hours. Anyone who thrashed through their youth to the music of The Dead Kennedys knows what a treat it was to have him there. I was delighted to see that our crew, Gonzo, T.J. and Will (all roughly twenty years Jim and my juniors), were as excited to sing Bohemian Rhapsody with Jello as we were!
Jello loves Chick Tracts! He counts Jack Chick as his favorite cartoonist. His favorite, Bewitched, was a mainstay of our Chick Habit repertoire. Jello attended our first production, Welcome to the Hypnodrome, and he was quick to comment on how far we've come in the past three years working non-stop at the drome.
Since closing the show, we've been busy. The Shock Boxes are stripped to the bone (the Egyptian Tomb themed box is alraedy taking shape). We're also hard at work on preparing for the Creepshow Camps, hosting a co-production for the San Francisco Festival of Fantastic Films with Dead Channels, planning our 4th Bastille Day event with SFPALM, and getting a revised Empress of Colma tour ready for Burning Man. What a Summer!